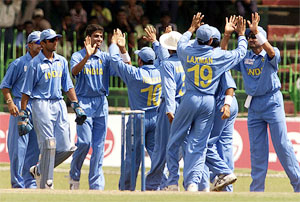 I am not much of a cricket lover. But i come from a country where cricket is a religion. Much like what football is to the british. Lets face it -
indians are cricket crazy
and they admit that rather proudly.
What caught my attention is this article in indiatimes.com -
Sachin doesn't play for India - Cricket
that takes a look at the employment details of indian cricketers. Although they are called the cricket team of india - they are in fact
not owned
by the country or the govt. According to the article they are employees of a private society - BCCI (
Board of Control of Cricket in India
). For those of you who follow cricket, i am sure this name rings a bell for its fame as being the richest cricket club in the world (and yes, they call themselves a
non-profit
organization).
Something new that this article tells me is that the laws of India prohibit the use of words "India", "National", etc so as to prevent misleading. But in the case of BCCI, it seems that an exception is made.
In short, the next time Sachin plays - remember he is not
our
hero, he's just a star employee.