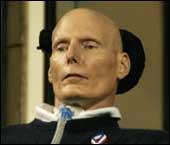 My favourite childhood superhero - Superman (played by:
Christopher Reeve
) is
dead
. He died aged 52. He was paralyzed in a accident in 1995. Refusing to accept disability quitely, he is said to have undergone painful physiotherapy which enabled to breath longer without this respirator, move his index finger and regained control over some of his limbs.

My deepest homages to his superman in real life - go in peace !