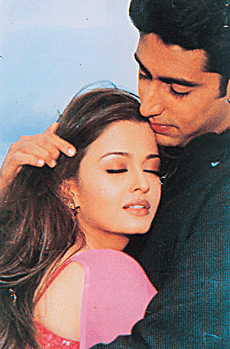 A quick snatch from the bollywood rumour-mills.
Rediff.com has quoted the Bacchan family astrologer Chandrashekhara Swamiji to say that the two superstars, Abhishekh Bacchan and Aishwarya, are certain to marry in the February of 2007
.
For non-Indian readers, it is quite common among Indian celebrities to consult astrologists for important events like the premiere of a film, marriage or even re-spelling ones name. In the Indian households, even today, astrologers are consulted to compare the star charts of the bride and groom especially in arranged marriages.
So will the stars shine on two of india's most popular bollywood stars? We can only wait and watch. Meanwhile, this news has set the rumour mills churning in print as well as online media. So i thought why leave the blogosphere behind ;)
More reading:
Update (24/04)
: This did finally happen on the 20th April. I have uploaded some snaps of the newly weds couple that have been making the rounds of the age-old email forwards route. So, enjoy!