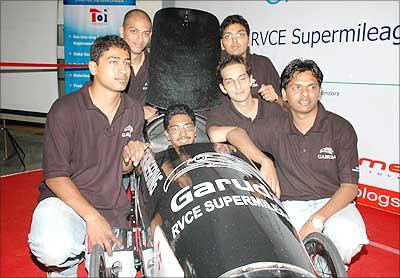 8 mechanical engineering Students from the Rashtriya Vidyalaya College of Engineering in Bangalore have developed a car named
Garuda
(
a mythical bird in Hindu/Budhist mythology
) that can do 180 kilometers to a litre (or approx 112 miles to a litre).
The students believe that the car will help address current issues like rising fuel costs and reduce pollution. The car was built using locally available parts, some salvaged out of vehicles. The team is confident that with an improved design the car may be able to deliver around 500 kilometers (approx 310.5 miles) to the litre!
The team is looking forward to be the first Indian team participating in international competitions like SAE Supermileage (United States) and Shell Eco Marathon (Britain).
Here's video of the students with the car:
Read:
Garuda, the car that runs 180 km per litre
(via
rediff.com
)